We provide a specialist mobile car body repair service to repair and take bumper scuff, paintwork scratch, car dents and stone chips away in London, Hertfordshire, Surrey, Kent, Essex & Sussex
Our expert and professional service can save vehicle owners upto 50% when comparing against traditional bodyshop prices, where you will most probably have to possibly wait a week or more for service or you may be without your vehicle for an extended period of time, meaning the repair can not only be expensive but also extremely inconvenient to your daily schedule.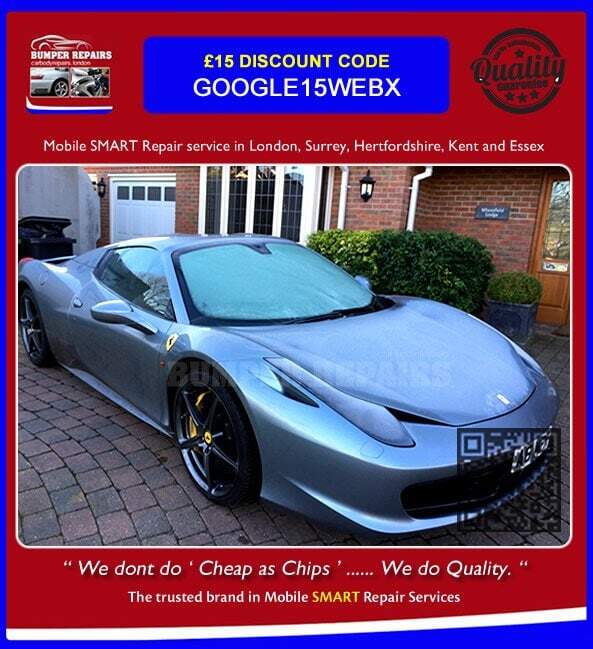 We provide a range of professional cosmetic car repair services and can take bumper scuffs, dents, cracks, scratches and chips away, expertly remove dents from impact to your personal, company or leased vehicle and provide specialist mobile alloy wheel refurbishment services where we bring your worn, kerbed and lacklustre wheels back to showroom condition.
Our mobile car body repair services are available to private and commercial clients located within our extensive coverage zone and we are happy to accept all major debit and credit cards as payment using our secure and easy to use online payment facility.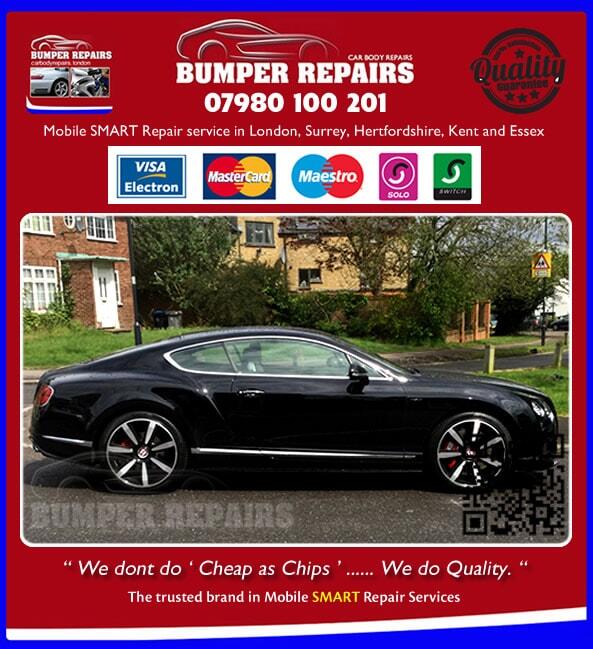 Using the latest SMART Repair ( small to medium area repair technique ) technology, we can bring the bodyshop to you, whilst providing a cost-effective solution to repairing cosmetic vehicle damage, with the minimum amount of fuss or inconvenience.
Driving conditions increase the probability of a vehicle sustaining some type of cosmetic damage and in the past the only option would be to visit an expensive bodyshop to have the damaged repaired.
Nowadays car and van owners have more than one option available when sourcing an economical and quick repair, as Bumper Repairs operate fully fitted and well stocked service vehicles which enable us to carry out a wide range of car body repairs on site within a matter of hours.
We are able to do this by limiting the repair to a small area, which in turn allows us to save you time and money. For crash repairs where you would need the services of a bodyshop we can of course provide full bodyshop services with full collection, repair and return facilities.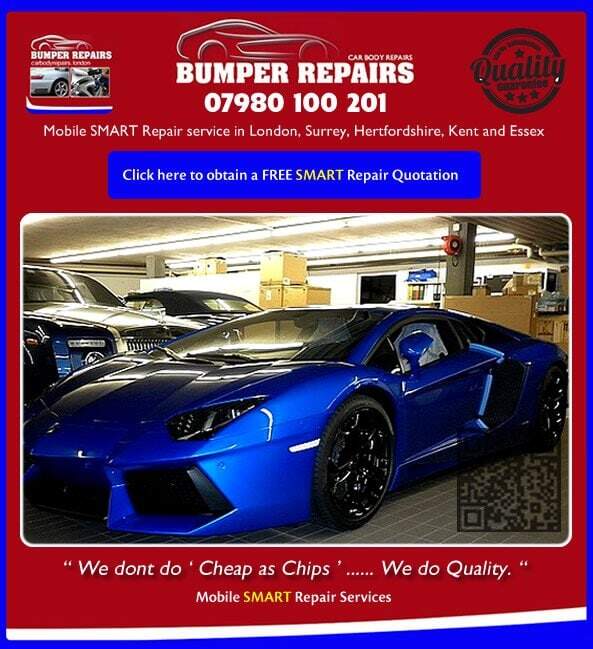 Our mobile car body repair services are suitable for repairing vehicle damage to a wide range of vehicle including Alfa Romeo, Aston Martin, Audi, Axiam, Bentley, BMW, Cheverolet, Citroen, Daimler, Ferrari, Fiat, Ford, Honda, Jaguar, Jeep, Kai, Lamborghini, Land Rover, Lexus, Lotus, Maserati, Mazda, Mercedes Benz, MG, Mini Cooper, Mitsubishi, Nissan, Peugeot, Porsche, Renault, Rolls Royce, SAAB, SEAT, Skoda, Subaru, Suzuki, Toyota, Vauxhall, Volkswagen and Volvo.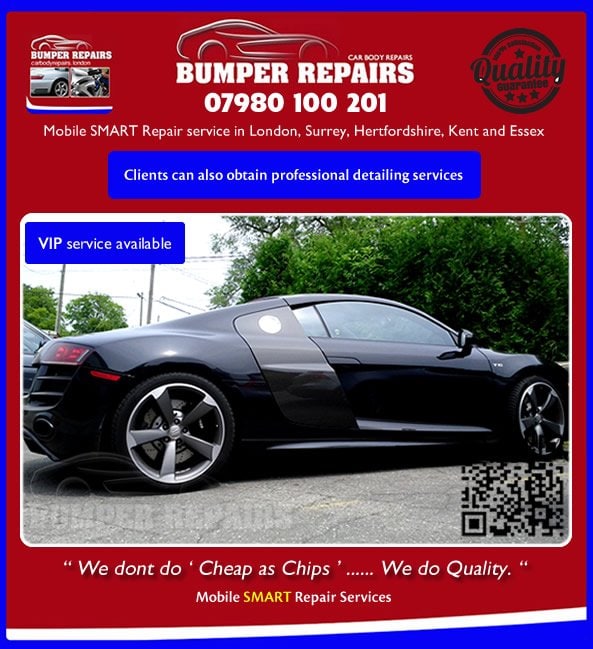 Its very easy for customers to obtain a FREE no obligation fixed price quotation for professional repair service – All you need to do is, take a closeup picture of your vehicle damage and a further picture of the vehicle damage standing away from the vehicle and send it through to us with details of your location and car model and some information about how the damage occurred.  A vehicle paint technician will then assess your vehicle or alloy wheel damage and we will then provide you with a fixed price quotation.
It really is this easy to have cosmetic damage removed from your vehicle!