Call ☎ 07980 100 201 for specialist Car Scratch Repair in Goldsworth Park GU21 which can help take plastic bumper scuffs, car paint scratches, front and rear bumper cracks, minor car bodywork dents and stone chips away.
Our service covers many parts of South London, Surrey, Kent & Sussex using the latest in smart repair techniques utilising manufacturer paint colour code and surface texture matching to ensure your vehicle is finished to a high quality standard.
Car Scratch and Scuffed Paintwork Repair Experts
Car Body Repair In London, Hertfordshire, Surrey, Essex, Kent And Sussex
We provide mobile bumper repair, mobile wheel repair and Small Dent Repair services in London, Hertfordshire, Surrey, Essex, Kent and Sussex and our experienced car bumper scratch technicians can complete a range of repair procedures to remove bumper scuffs, bumper scratches, bodywork scrapes, scuffed paintwork, small cracks, paintwork stone chips, scraped wing mirrors and more without working on the entire vehicle panel or surface area.
This means you will typically save money when obtaining repair service on your vehicle, without compromising on high quality workmanship, premium levels of customer service and the convenience offered from NOT being without your vehicle for an extended period of time.

Our technicians are highly experienced in cosmetic car repair services and before performing any repair procedures, the manufacturer's original colour code specification is checked to make sure we only use the correct colour and texture when repairing your bumper.
We are specialists in car body repair and our technicians provide the best in car scratch repair, bumper scuff removal and mobile alloy wheel refurbishment.
Our service is unique because we bring the bodyshop to you and carry out cosmetic car repairs at your home or place of work in Goldsworth Park GU21 at a fraction of the price, when compared against traditional bodyshop pricing.
All we need is a power outlet and a clear space to conduct works on your vehicle and we can begin the process of removing vehicle damage quickly and conveniently.
Please see below for an indication of the typical types of repair we can complete on your vehicle.
We appreciate customers taking the time to use our enquiry form to send through quotation request's with pictures of the affected area/s for us to assess.
Your assistance in this allows us to respond quickly and accurately to your enquiry.
Not just Bumper Repair in Goldsworth Park GU21
Our well stocked vehicles carry all the equipment needed to carry out a range of car body repairs and we welcome enquiries from customers who require expert alloy wheel refurbishment or car dent removal services. The provision of these services on a fully mobile basis, allows us to provide customers with a turnkey aftermarket vehicle repair solution to remove car body paintwork imperfections and minor vehicle damage easily and without fuss.
We are fast, friendly and cost effective and are retained by a number of commercial partners, including major vehicle dealers, car leasing agents, insurance companies and fleet management groups who value our high quality workmanship and customer service.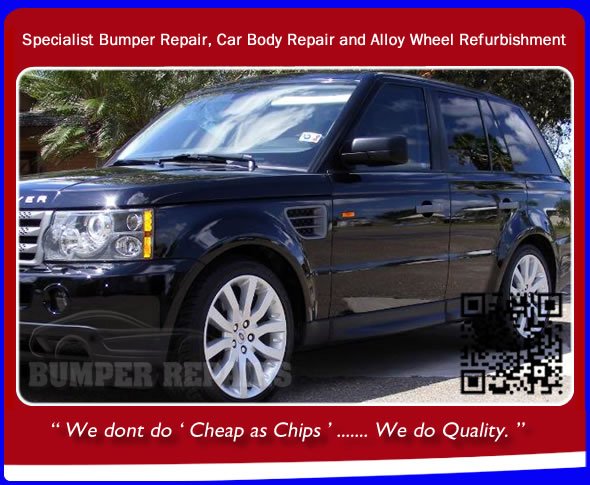 If you would like a FREE quotation for us to fix your bumper, wheel arch, car panels, alloy wheels or dents in Goldsworth Park GU21, then please send us a clear picture of your vehicle damage through our contact form with the requested information or call 0203 432 1790 and our service team will assist you.
We provide mobile bumper scuff repair, alloy wheel repair and car bodywork dent removal services to clients located in many parts of South London, Surrey, Kent & Sussex.
Give us a call on 0203 432 1790 if your private or lease vehicle has sustained front or rear bumper, car panel or alloy wheel damage and allow us to show you why we are Goldsworth Park GU21, London, Hertfordshire, Surrey, Essex, Kent or Sussex's premier car body repair specialist serving the general public and motor trade.